Winch sensors provide true cable length

&nbsp by
Julian Bridgewater
on
March 2015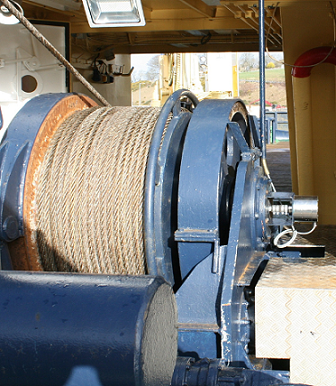 Foreshore Technology have produced a Winch Sensor for use with their Dredge Master software. Designed for spud legs, Crane barges and plough boats in harsh marine conditions the sensor can give the true wire length even with multiple layers of wire on the winch drum.
Most winch sensors rely on the user lowering the wire to the working depth range and doing a manual measured calibration. This method is ok but as soon as the wire drops to the next layer on the drum the linear meters of wire are not measured correctly.
Foreshore Technology have taken a new type of encoder and incorporated it inside our super heavy duty stainless steel winch sensor, designed to last many years in the very worst marine environment. The sensor is self energising and knows if it has moved even if it has no power. The accuracy is 0.01 degrees and over 4000 turns of the winch can be measured at high or very low RPM. The winch sensor is available with several mounting options and 'wet-mate' plugs if required that allows swift emergency removal in down-time critical applications.
Calibration after first install is quick and easy with a simple calibration procedure in Dredge Master. It is this calibration procedure combined with the encoder that allows the system to compenstate for the changes in wire layering and changing circumference of each layer. This ensures that the true wire length is known regardless of how many turns are on the drum.
The sensors have been used in Finland for over a year in some severe conditions and they are still looking the same as they day they were fitted! As a customer said recently,"This system gives a real advantage when working a project with both shallow and deep water areas".